Register of Deeds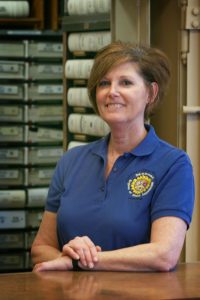 Debi Wherry

Rush County Register of Deeds
Mailing Address:
Register of Deeds Office
PO Box 117
La Crosse, KS 67548
rushdeeds@rushcountykansas.gov
Phone: 785-222-3312
Fax: 785-222-3146
Monday – Friday
8:30 a.m. 5:00 p.m.
---
Records
The Register of Deeds Office is responsible for recording all transactions relating to real estate in Rush County. We have records that date back to the 1800's. This includes deeds, mortgages, oil and gas leases, and platted additions to all cities in the county, county school records, federal IRS liens, State Unemployment Tax Liens, Mechanics liens on personal properties, military discharges and powers of attorney along with other miscellaneous documents.
All records in this office are open to the public with the exception of the Kansas Real Estate Sales Validation Questionnaire and military discharges which are closed by State Statute.
Please remember Register of Deeds are recorders not researchers. This office will not be responsible for missed documents and information.